Baked Eggplant and Ricotta Rolls
Chickee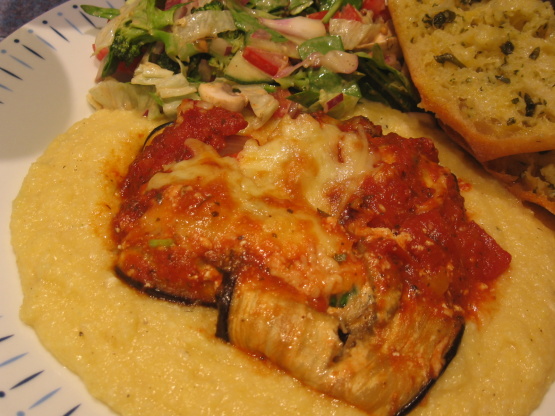 I saw this on the cover of Good Taste and decided, with eggplants at $2.99/kg, that it had to be dinner! And it didn't disappoint. It's actually quite fun to get a guest or two to help you, they can make the rolls whilst you fix the salad and polenta!
Preheat oven to 200 degrees Celsius Spray large baking trays with oil spray to lightly grease, cut eggplants into 16 or so 1cm thick slices lengthways. Arrange eggplant in a single layer, on the repared trays. Lightly spray with olive oil spray. Bake in oven for 10 minutes or until golden.
Meanwhile, mix the basil, ricotta, and three quarters of the parmesan in a medium bowl. Taste and season well with pepper.
Place 1 tablespoon of the ricotta mixture on one eggplant slice. Roll up firmly to encose fulling. Place the roll, seam side down, in a 30 x 20cm baking dish. Repeat with the remaining ricotta mix and eggplant slices. Pour the sauce evenly over the rolls, sprinkle with the remaining parmesan and the mozzarella. Bake in oven for 10 minutes or until the mozzarella melts. Serve with polenta, if desired.