jVo6236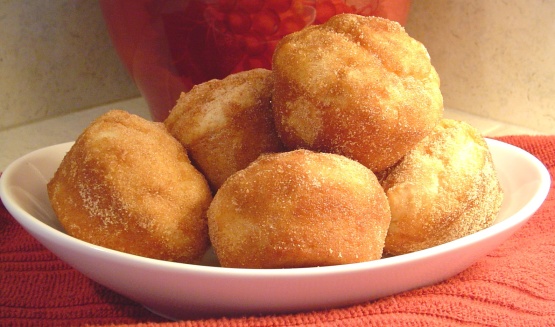 This is a Farm Jounal recipe from the 70's . Easy and no-fry!

My family of 6 really loves this recipe. I do not use the chopped nuts in the batter, nor do I bake them in muffin tins. I take about 2T of batter, rolled lightly to make a ball, and place them on an ungreased cookie sheet 2 inches apart. I reduce the cooking time. (They take 8-10 minutes in my oven.) This is a very versitle recipe. I have made these several times, sometimes substituting EggBeaters for the eggs and using half whole wheat flour. They always turn out great! I top some with the cinnamon sugar mixture,some with powdered sugar alone, and some with store-bought vanilla frosting. The frosted ones, I top with sprinkles for the kids and chopped walnuts for the adults. yummy! This is a great recipe...not at all greasy, and much healthier than the fried variety. The baked dounuts also freeze well. Just take them out, let them thaw for a few minutes, and top as usual. Thanks for posting this tasty and easy recipe!
Preheat oven to 400 degrees F.
Cream shortening, sugar and eggs until light.
Sift dry ingredients.
Add dry ingredients alternately with milk to creamed mixture.
Mix well (this is a stiff dough).
Add nuts (optional).
Drop by tablespoonsful into well greased muffin tin.
Bake 20 minutes.
Mix cinnamon and sugar in a bag.
Dip hot doughnut tops in melted butter.
Toss doughnut in cinnamon and sugar mix.
Serve hot.