Baked Double Chocolate Donuts (Gluten Free)
PaulaG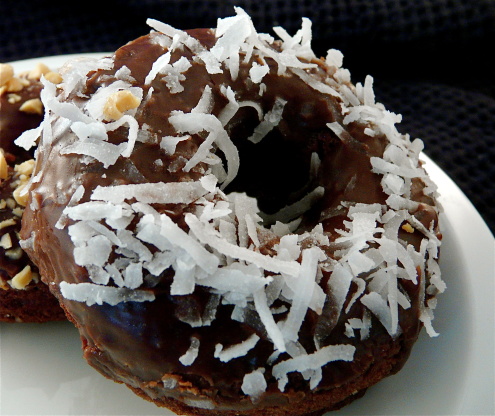 Yes, you can make delicious, cakey, gluten free donuts. Chocolate Glaze (That Hardens when Cool) was my inspiration for the glaze. The recipe makes six regular donuts or 12 mini-donuts. If using the mini-pan the cooking time may need to be adjusted.

Ten stars - these were incredibly good, and they definitely tasted like the real thing. They even were better - I never liked any donut so much! The recipe description is excellent, I followed it to the letter and was rewarded with six beautiful, tasty donuts. Thanks so much for sharing, I will make these again often.
Made for Second Annual Tailgate Party of the Diabetes Forum.
Preheat oven to 375 degrees. Spray a 6 hole donut pan with non-stick cooking spray.
In a medium bowl blend together the flour, tapioca starch, cocoa, sugar, gum, baking powder, salt, cinnamon and buttermilk powder.
In a small bowl beat together the eggs, oil and 2 tablespoons water. Pour the mixture into the dry ingredients and mix until well combined. If mixture is to thick add in additional water until a smooth, thick, cake batter consistency is achieved.
Spoon the mixture into the prepared pan, smoothing with a spatula. Place in pre-heated oven and bake for 10 to 12 minutes. Allow to rest in pan a minute or two and then turn out onto a wire rack to cool for a few minutes.
In a small bowl, blend together the coconut oil, cocoa, 1 1/2 tablespoons hot water, sugar and vanilla. Stir until smooth adding in additional water as needed. Place the cooling rack with donuts on a cookie sheet and spoon the chocolate glaze over the donuts allowing the glaze to drip down sides. Immediately top with topping of choice; i.e., peanuts, coconut or nonpareils. Enjoy!