diner524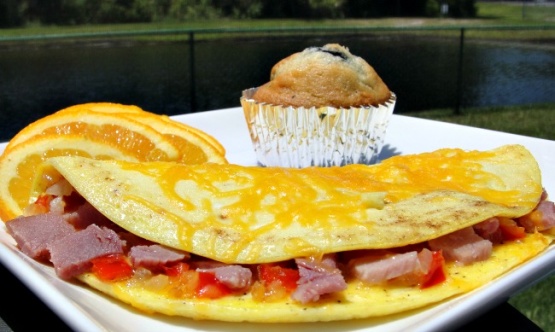 This sounds wonderful (have not tried it yet). From "The Prepared Pantry" website.

This is a great way to make an omelet -- worked perfectly. Made as directed and didn't leave out anything except that I scaled the recipe back for two. Will definitely make this omelet again -- loved the oven method. Made for Spring PAC, 2014.
Preheat oven to 400 degrees.
In a medium bowl, whisk together the eggs, milk, salt and pepper.
Place a nonstick or lightly greased baking sheet on an oven rack place at 2/3 of the oven's height. Pour egg mixture into pan. Bake 10 or 15 minutes or until the eggs are set but glossy.
While the eggs are baking, saute the mushrooms, onion, and pepper together.
Remove the baked omelet from the oven. Cut omelet into four squares. Place a square on each of four plates.
Spoon 1/4 of the vegetable filling over each square. Sprinkle each with 1/4 cup of the shredded cheese.
Fold each omelet square in half to form either a rectangle or a triangle. If desired, garnish with a bit more cheese and some parsley.
NOTE: For vegetarians, omit ham or replace with veggie ham or sausage.