Baked Croissant Blueberry French Toast With Crispy Pecans
kkfreds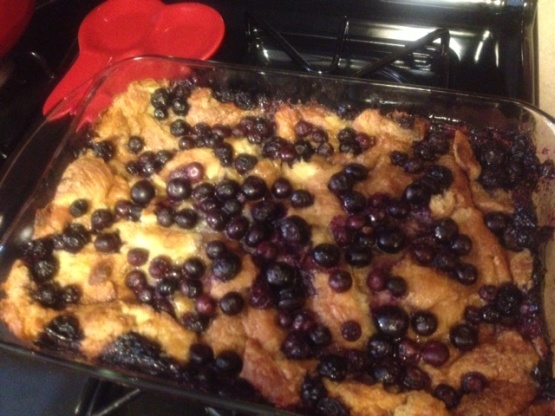 Makes a lovely Mother's Day or special occasion brunch. From Mary Ann Vitale of La Taverna restaurant and Sorella della Taverna (in La Jolla, California).

This was a real tasy breakfast! I did change a few things, though. I used orange juice instead of the alcohol, and I didn't have brown sugar (what baker doesn't have brown sugar...) so I just used white sugar. I also didn't see that this had to soak for 2 hours, so it only soaked 30 minutes. Given those changes, it still turned out pretty good. I imagine the texture would be even better, but it still had a light texture. The taste was great! I also almost thought that the lemon was too much when I tasted the syrup. Next time, I will use less lemon - maybe 1 tsp versus 1 Tbsp. When I rate recipes, I give no stars for a recipe that I have changed significantly that (the way I prepared it) would have received anything less than 5 stars. If I try this again, I'll follow it more closely so I feel like I can rate it appropriately.
For the French toast: Butter a 9-by-13-inch baking dish. Arrange the croissant halves in the baking dish. In a large bowl, whisk together the eggs, milk, half-and-half, nutmeg, vanilla, Grand Marnier, orange zest, 1/4 cup brown sugar, white sugar and salt. Pour this mixture over the croissants. Cover the baking dish and chill until all of the liquid is absorbed, at least 2 hours.
For the topping: Preheat the oven to 350 degrees F. In a shallow baking pan, spread the pecans evenly and toast until fragrant, about 4 to 5 minutes. Remove from the oven and toss pecans with the 1 teaspoon butter and salt.
Increase the oven temperature to 400 degrees F. Sprinkle the blueberries evenly over the croissant mixture. Melt 1/4 cup butter with 1/4 cup brown sugar, stirring until the butter is melted. Drizzle this mixture over the baking dish and bake for 20 inutes, or until the liquid from the blueberries is bubbling.
For the blueberry syrup: In a small saucepan, cook blueberries and maple syrup over moderate heat until berries have burst, about 3 minutes. Pour syrup through a sieve; stir in the lemon juice.
Sprinkle the croissant French toast with toasted pecans. Serve with the syrup.