Baked Croaker with Cracked Peanuts
Food.com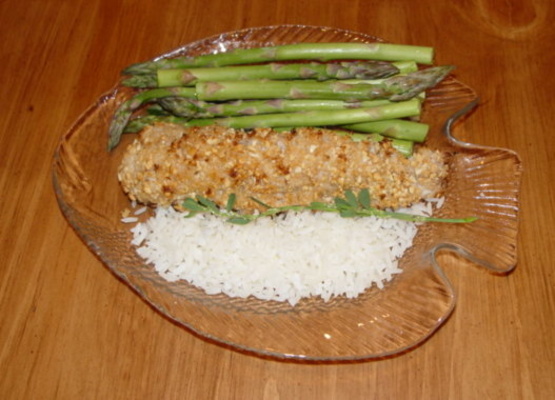 A friend gave me a croaker he caught in the Chesapeake Bay on his vacation. Never had the pleasure of eating croaker before. I've learned it's a sweet tasting bottom-feeder fish (from up north!) Other than cleaning it, the recipe is soooo simple and awesome tasting! The fish flakes right away from the bone, doesn't have a strong fish taste, and tastes incredible! Makes me want to go fishing up north so I can get "a whole mess of 'em"!!

I use a Poaching allows you to still retain flavor and cook the healthy way without drying fish out. And a litter butter, Tender meat with a mild, sweet flavor. Croaker is found in nearshore and Chesapeake Bay waters during the spring, summer and fall, and are available further south and offshore during the winter months.
UPDATE:: To make a Poacher On each sheet of foil, place 1/2 teaspoon butter. Drape 1/4 of the filets over the butter, add salt and pepper to taste and one quarter of the slice scallions. Add about 1/2 teaspoon of water to each packet, sprinkle 1/4 of the herbes de provence on top of each, then fold the foil up and over the filet until you have a loose close packet, making sure there's some room inside to steam. Seal all edges. Repeat for the other filets.
Put the packets on a baking sheet. If you've folded them correctly they should not leak while they're in the oven. If you're in doubt, put them in a large oven dish instead. Put into oven for 20-25 minutes. at 375 deg.F.
It's very difficult to overcook fish this way, so if you're leery of the fish being undercooked, leave it in slightly longer.
Open each packet at the table -- you don't want to miss that aroma!
Preheat oven to 500 degrees.
Place a baking pan in the oven large enough for the amount of fish you are going to bake.
Clean the croaker leaving in the center bone strip.
Coat fish with oil.
Finely chop peanuts and toast to make bread crumbs.
Roll the oiled fish in the bread crumb/peanut mixture, sprinkle with pepper.
Put fish on pan and cook at the high temperature for only 10 minutes.