Baked Cranberry Apples(Crock Pot)
katew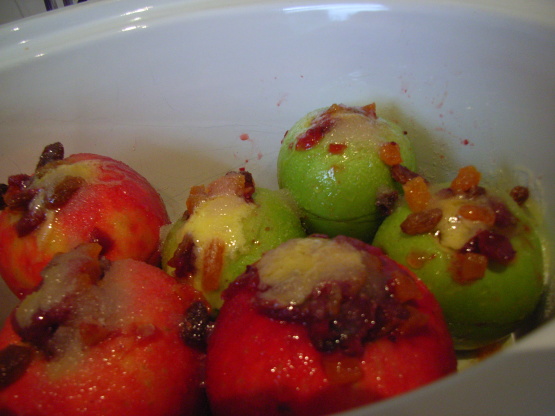 Crisp apples stuffed with cranberries, brown sugar and walnuts, slow cooked, make a wonderful dessert! This would be good for breakfast too! Yum! From Just Berries. Apples and Cranberries are grown in New England and also Canada!

Top Review by O-mama
(3/12/12) These are in the crock RIGHT NOW. Used eastern apples from a recent sale and craisins. no walnuts. i didn't measure out the sugar and spices (it was the tail-end of my brown sugar), and I sprinkled more cinnamon over the top of all after assembly. Looking forward to this! ...now to figure out what to have for dinner. ;)

(3/17/12) These turned out pretty decent! Two hours into their crock time we ended up having to leave the house and knew we wouldn't be back in time for the apples to finish so we gambled and changed the crockpot setting to "warming." They ended up being in there for another six hours! They were easily cut with a spoon while still being firm enough to chew (rather than mush). My batch could have gone with a bit more sugar, but that's not surprising considering I didn't have quite enough left in the house. Our extras are in the freezer and I'm conspiring to utilize them in muffins or quick bread. ;)

Look forward to making them again sometime! Thank you for sharing!!
Peel each apple about a fourth of the way down; remove core and seeds.
In a small bowl, combine cranberries, sugar, cinnamon, nutmeg and walnuts.
Spoon cranberry mixture into center of each apple.
Place in a 4-quart or larger crock pot.
Cover and cook on low 4 to 5 hours or until apples are tender.
Serve warm or at room temperature.
Top with whipped or sour cream, or vanilla ice cream, if desired.
Enjoy!