Kim127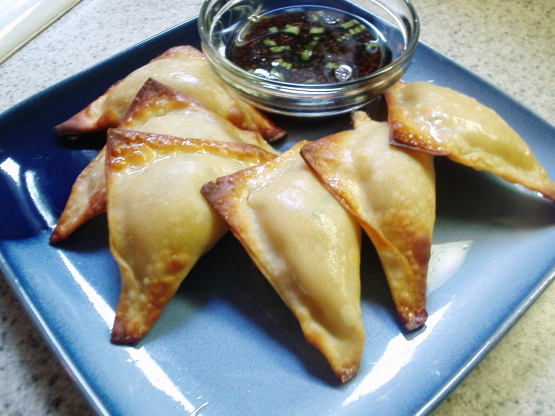 This version of my favorite Chinese appetizer is baked instead of fried, making them lower in fat. They are absolutely delicious! I don't really like crab, but I devour these.

Very yummy and didn't take too, too long to put together. I think next time I'll increase the green onion for added flavor. Baked these, froze them, and then reheated just as many as I needed--came out great!
In medium bowl, combine all ingredients except wonton skins and butter.
Mix until well blended.
Place 1 teaspoon filling in center of each wonton skin.
Moisten edges with water.
Fold in half to form triangle, pressing edges to seal.
Pull bottom corners down and overlap slight; moisten one corner and press to seal. (Usually there is a diagram on the wonton package. I think they look like little kerchiefs.).
Arrange on baking sheet that has been coated with vegetable spray.
Brush with melted butter.
Bake in 425º oven for 12-15 minutes, or until golden brown.
Serve hot with desired sauce.
NOTE: I like hoisin or plum sauce and sweet and sour -- even jalapeno pepper jelly!
NOTE: These can also be fried, if prefer.