Baked Crab Quesadillas Appetizers
Rita1652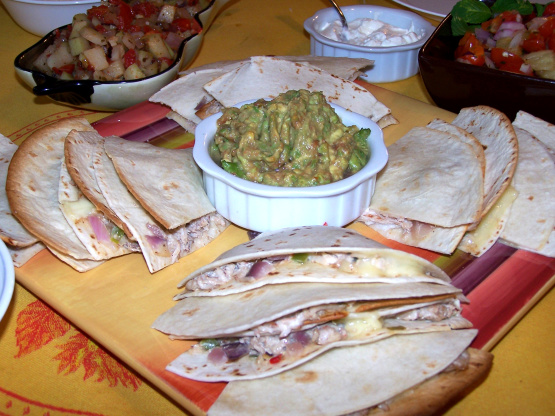 Unlike most quesadillas, these are baked, not fried. These are also cut into thirds for appetizers, but if you'd like, leave them whole and have them for a meal! I love crab, and I love cheese. I also tend to like flour tortillas! So this is something that worked out well in my appetizer repertoire!

Very good! I even would skip the mayonnaise next time just use extra cheese to help it all stay together. I made 1/2 the amount replacing the white onion with a red one. Place on 1 whole tortilla top with an other then sliced into four wedges. This was part of Menu #28779 chick out the topping I used. Made for ZWT5. Gracia.
Combine butter and oil; set aside.
Saute onion, peppers, and garlic in 2 tbsp reserved butter mixture in a medium saucepan over medium heat, stirring constantly until tender. Remove from heat. Gently stir in crabmeat and next 3 ingredients.
Place on tortillas on baking sheets; brush 1 side of each tortilla with remaining butter mixture. Turn tortillas over; spread crabmeat mixture evenly over half of each tortilla, and sprinkle with cheese. Fold tortillas in half.
Bake at 475 degrees for 4 minutes or until golden. Cut each tortilla into thirds. Serve warm.