Baked Couscous With Summer Squash
loof751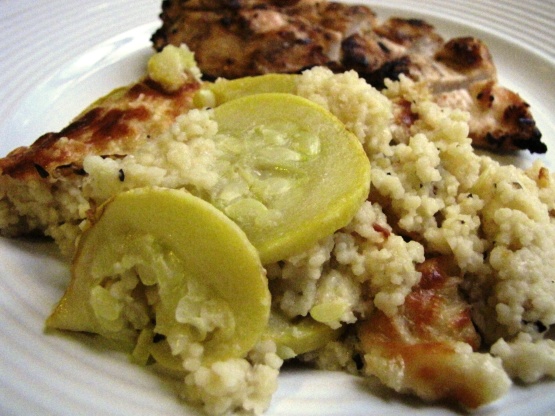 Our family and friends love this low fat side dish. When I have a vegetarian here, I use vegetable broth instead of chicken. This recipe came from Cooking Light magazine.
A very nice side dish to whatever else you want to make. It would go well with grilled meat or veggies or a roast. It would certainly serve as lunch all by itself since it has so many healthy ingredients built right in.
Preheat oven to 400°F.
Bring 1 cup of broth to a boil in a medium saucepan; gradually stir in uncooked couscous. Remove from heat; cover and let stand 5 minutes. Fluff couscous with fork.
Heat a large nonstick skillet over medium high heat. Coat pan with cooking spray. Add squash, onions, basil, oregano, and garlic; sauté 3 minutes or until squash is tender. Set aside.
Combine cheeses; set aside.
Combine couscous, squash mixture, and half of cheese mixture in a large bowl; stir in remaining broth, egg substitute, salt, and pepper.
Spoon mixture into an 8x8-inch baking dish that is lightly coated with cooking spray.
Top with remaining cheese mixture.
Bake at 400°F for 25 to 35 minutes or until golden. Mine takes 35. Serve warm.