Baked Cod With Tomato and Green Onion
bikedad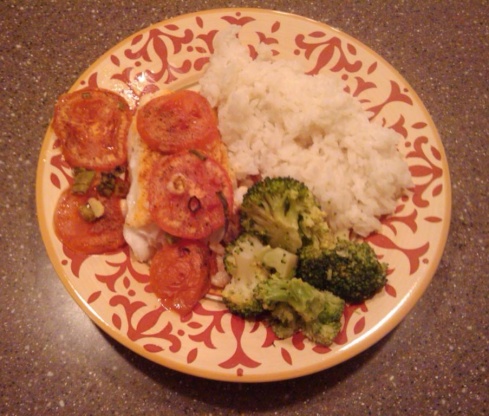 When I get home from work I want something healthy but fast. This is my version of home made fast food. Simple but very tasty. Serves 2

Love the taste and simplicity of this dish..................just enough flavorings to make in into something special especially on a weeknight. I also add some crushed up feta cheese on top of tomatoes but that is because we love the stuff. My husband also likes black olives added but, of course, not necessary.
Preheat Oven to 400 deg F (I used a toaster oven).
Coat 2 quart shallow glass baking dish with 2 TBSP Olive Oil.
Place Cod fillet in center of dish.
brush remaining 1 TBSP Olive Oil over top of fillet.
Place tomato slices around Cod fillet.
Sprinkle green onion over tomato slices.
Grind Sea Salt over top of Cod fillet to taste.
Sprinkle Paprika over top of Cod fillet.
Sprinkle Pepper over Cod fillet and tomato slices.
Sprinkle Garlic Powder only over tomato slices.
Pour Lemon Juice over tomato slices.
Bake in 400 deg F oven for 20 minutes or until fish flakes easily.
Plate up and place tomato/green onion over top of fish.
Goes great with Quinoa and a colorful vegetable.