twissis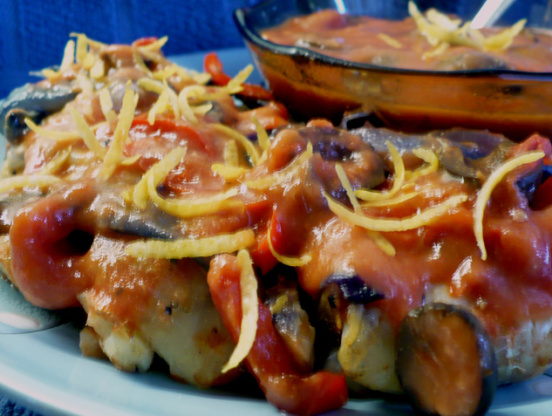 Spanish Zaar World Tour 8. Famous Chefs Cookbook, 1941.

Made for ZWT-8, DH & I differed on the success of your recipe. He chose the recipe & I made a half recipe for 2 of us (mostly as written). I used a generous amt of lemon pepper, added black olives at his request & scattered lemon zest over the plated fish because I like it & wanted a colour variant for the pic. I did have issues w/the recipe. I tried & soon abandoned Step 1 of the prep. Maybe I just wasn't very good at it, but trying to slice cod fillets into 1/2 in strips was destroying the lovely flesh of the fillets. If you meant 1/2 in thick fillets, then mine were good-to-go w/o slicing. I also felt the oven temp was too high. I didn't want to 2nd-guess the recipe, but more important was not to ruin the fish. I finally opted for a 30 min cook time at 375F. The fish was perfectly done & moist. I felt the tomato flavour overpowered any fish flavour, but that may well be a feature of the Spanish cuisine. DH praised the recipe w/enthusiasm, so we compromised on the rating. As I plated for the pic, I had the thought that a lightly-creamed version could be easily created by adding a bit of cream cheese to the sauce & that might also help to mellow the tomato flavour. I will likely try that next time. :-)
Cut cod into 1/2 inch strips (the whole fish fillet is ok ).
Sprinkle with salt and pepper.
Place on an olive oil coated baking sheet.
Sprinkle with onion and bell pepper.
Pour tomatoes and black olives around cod.
Bake in hot oven 375 degrees Fahrenheit until fish is just tender, about 30 minutes.
Remove fish to serving platter.
Mix flour with a little water and pour over the sauce.
Pour over fish; garnish with watercress if desired.