eabeler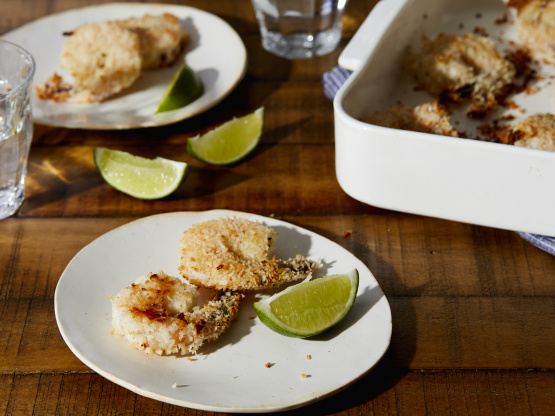 So easy and delicious--and no extra fat.

Made these shrimp Sunday afternoon for an appetizer,mmmmmmmmm sooo good! Cut the recipe in half, worked out fine. the flavour is very good, we like cumin and garlic is always good, I used fine unsweetened coconut because that's what I had, maybe not as crisp but very very good, thanks for sharing chia. -- posted Dec 16, 2002, UPDATE: Made these tonight(Dec 24/04) as part of Christmas eve dinner, they really are wonderfull, did them this time exactly as the recipe said, soo delicious with the flaked coconut and panco. We did 12 prawns and 6 big oysters, the oysters were as good as the prawns, nice and moist, much better than deep fried. This dish was the star of Christmas eve dinner!!thanks again for posting it !! -- posted Dec 24, 2004, 2 members found this helpful Dec 24,2005, Me Again, this is our favourite seafood coat, and here we are again on Christmas eve, it has become a tradition for us, this year I did Oysters, jumbo prawns and scallops, Yummy!!! They were sooo good and always a big hit, Thanks again Chia!!!!
Preheat oven to 500°F.
Spray a baking sheet with olive oil spray.
Beat egg whites in bowl.
In a small plastic bag, mix panko, cumin, coconut, garlic, and pepper.
Dip shrimp in egg whites, then shake in plastic bag to coat.
Lay shrimp on baking sheet and bake about 6 minutes per side until golden brown.