Baked Chipotle Sweet Potato Fries
gailanng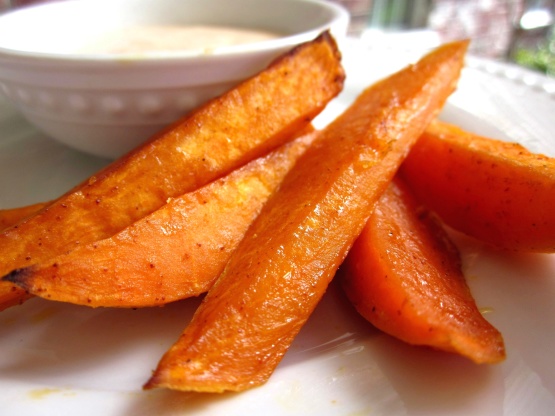 From Gina's Skinny Recipes http://www.skinnytaste.com/2010/11/baked-chipotle-sweet-potato-fries.html#more

Love Love Love this recipe. I normally hate sweet potatoes, but have been trying to find a way to like them. This way is it! The heat takes away some of the sweetness and they got nice and crispy on the ourside without being dry on the inside. I did pat them dry with paper towels before mixing them with the spices and oil. Thank you so much for this recipe!
Preheat oven to 425°.
In a medium bowl, toss sweet potatoes with olive oil, salt, garlic powder and chipotle chile powder.
Spread potatoes on a baking sheet. Avoid crowding so potatoes get crisp. Bake 15 minutes. Turn and bake an additional 10-15 minutes. Ovens may vary so keep an eye on them and be sure to cut all the potatoes the same size to ensure even cooking.