Debbwl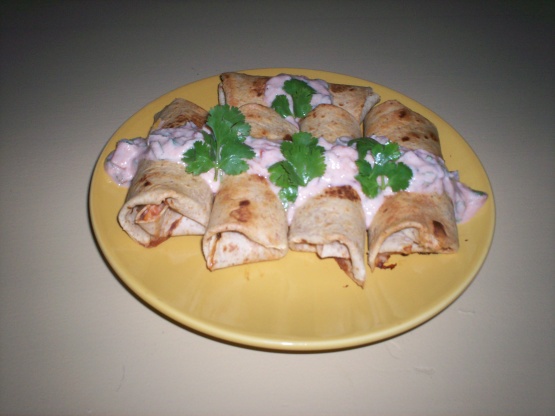 Although this calls for leftover chicken any other leftover meat works well too. Recipe source: local newspaper which was adapted from Quick and Healthy Recipes and Ideas.

Top Review by Debbwl
So much healthier than the ones you buy. These are quick and easy to make as well as tasty. Made with chicken and fat free cheese. Next time will use a different sauce as this one did not go over well. Gave 5 stars as the baked chimichangs were good and the sauce is listed as optional. Thanks so much for the post .
Preheat oven to 400 degrees F.
In a bowl mix together filling ingredients.
Warm tortillas (5 seconds in a microwave).
Wet one side of tortilla and place wet side down and then spoon filling in the center of tortilla. Fold to hold in the filling. Repeat with remaining tortillas and filling.
Spray baking dish with Pam. Lay chimichangas, seam side down in dish. Bake for 15 minutes.
To make sauce:.
Mix together ingredients in a bowl and refrigerate before serving.