Julesong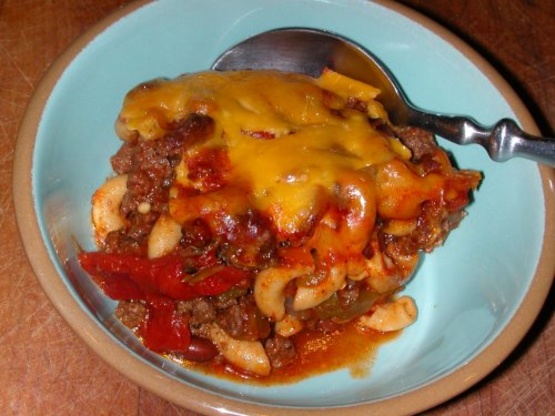 In searching what to make for dinner tonight, I took out a package of ground meat (buffalo, specifically) from the freezer, and found a box of elbow macaroni. Looked like Chili Mac makings to me! :) I had never made Chili Mac before (I just remember having it in the cafeteria when in grade school), so I took a look at what was here on Zaar… and was surprised not find many recipes for it. I put together a recipe out of what I found here and elsewhere online, but the below meat chili mac was somewhat adapted from Miss Annie's vegetarian Marvelous Macaroni Chili. Very tasty, very flexible! :) This is a Pantry Challenge recipe.
Preheat oven to 350 degrees F.
Cook the pasta according to package directions until al dente (if using regular macaroni this will take about 6 to 7 minutes, if using lower-carb versions it'll take about 15 minutes); drain and set aside.
While pasta is cooking, in a large sauté pan cook the ground meat, onion, and garlic until meat is browned, about 5 to 7 minutes; drain fat if desired or necessary.
Add the tomatoes, tomato paste, mild green chiles, beans, chili powder, ancho, oregano, cumin, pepper, salt, and tabasco (to taste) and simmer for 5 minutes.
Add the cooked macaroni and stir well to incorporate.
Pour mixture into a lightly pan-sprayed large casserole dish and sprinkle with the cheddar cheese.
Bake at 350 degrees F for 20 to 30 minutes or until the cheese is golden and bubbly.
Serve with a bit of sour cream for topping and veggies.