Baked Chicken With Lemon and Herbs
fdalpete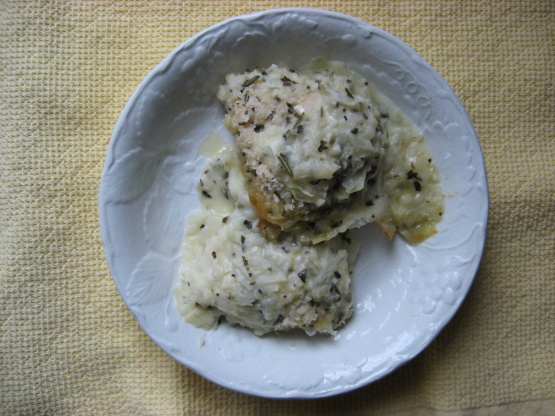 Good source recipe for calcium. This recipe can be serviced with potatoes or rice.

Absolutely love this recipe, not too lemony or anything! Delicious!
Preheat oven to 375°F (190°C). Place half of butter in 13x9-inch (3.5L) glass baking dish. Heat in oven for 5 minute.
In shallow dish combine bread crumbs and half each of the basil and rosemary. Place 2 tablespoons of milk in separate bowl. Dip chicken first in milk then in crumb mixture, pressing to coat. Transfer to plate. Discard any leftover milk and crumbs.
Remove baking dish from oven and swirl to coat with melted butter. Place breaded chicken in dish and return to oven. Bake for about 12-15 minutes or until chicken is starting to brown.
Meanwhile, in saucepan, melt remaining butter over medium heat. Cook remaining basil, rosemary, onion and garlic, stirring for 3 minutes or until softened. Whisk remaining milk into cornstarch; whisk in lemon rind. Whisk into pan; increase heat to medium high. Cook stirring for 3 minutes or until thickened and glossy. Stir in salt and lemon juice. Pour sauce over top of chicken in dish. Bake for 5 minutes longer or until chicken is cooked through.