Baked Chicken With Blood Oranges and Thyme
Satyne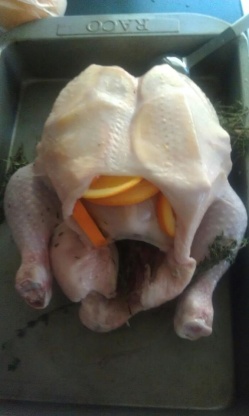 This was one of those experiments gone stunningly right in my kitchen: Since I think that the blood orange is sadly underused in cooking, I figured I could share. Any citrus fruit could be used in place of the blood orange with tasty results.

Top Review by Satyne
This was really yummy! Now I want to try it with apples, apricots and anything else I can think of. I teamed this one up with http://low-cholesterol.food.com/recipe/lemon-roast-potatoes-11930 using orange juice instead of lemon juice. It was awesome.
Preheat your oven to 400°F.
Pat your chicken very, very dry. Leave on the skin, set breast-side up on a rack inside a shallow baking pan. (If you want to line the pan with parchment paper beforehand, the cleanup after will be that much easier.)
Gently loosen the skin with your fingertips and rub all over with olive oil, salt, and pepper. Season the cavity and the outside of the chicken with thyme.
Wash and cut the blood oranges, halving them across.
Without peeling, slice two halves into quarter- to eighth-inch thick slices and slide beneath the chicken skin. Repeat until you have at least one half of an orange's worth inserted.
Either quarter or continue slicing the remaining orange halves and insert into the cavity with the thyme.
Place the chicken on the center rack in the oven for an hour.
Take the chicken out, poke the leg to make sure it's tender, cooked, and the juices run clear. Let it rest for at least 10 minutes.
Serve up with roasted potatoes and another vegetable, if you like. Enjoy!