Baked Chicken With a Twist
CoffeeB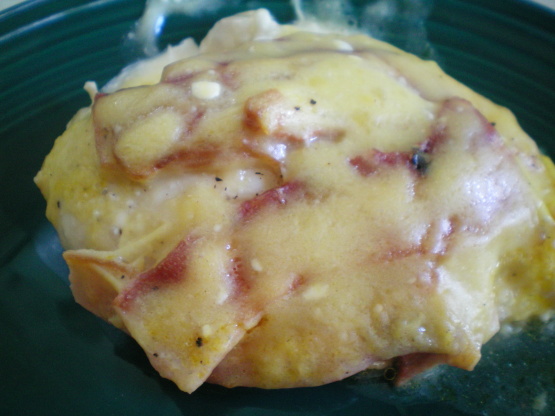 Another comfort food from my childhood. NOTE: Mom always used bone in chicken legs with skin on, that's all they had back in the 70's! Now I use boneless/skinless chicken breasts and thighs. Since bones add weight, 3 pounds of boneless chicken should be about right.
Yes, the family did like this very much. They said it was the added bacon on top. I have made this type of dish b/f using soups as gravies and also pork instead of chicken. It is very good and easy. I like the added bacon for taste. Thanks for this idea Kel. Tagged for ZaarStars.~
Arrange chicken pieces in 9x13 pan, skin side up.
Cut bacon in 2" lengths and lay over chicken.
Bake uncovered at 350 for 45 minutes.
Carefully, pour off some grease.
Blend soups and sour cream; pour over chicken and continue to bake for another 30 minutes.
Transfer chicken to serving dish.
Mix cooked pasta with sauce mixture from baking pan and serve.