Baked Chicken w/ light sauce
vrvrvr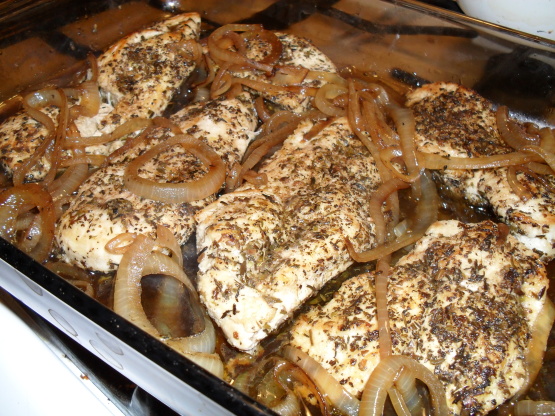 Baked chicken with herbs (similar to my baked pork chops) I made these for a dinner party. Everyone raved about how moist the chicken was and what a great flavor it had! The soy and worcestershire sauce give it some salt, so I don't add any other. The tabasco doesn't make it spicy, just adds a nice background flavor.
Amazing, whole family enjoyed this simple easy recipe. Will make again for sure!
*Justa note about the spices and herbs.
I use dried herbs and I am very generous with them.
This dish is great with a bit more garlic and basil.
Preheat oven to 375 degrees F.
In baking dish, pour 1Tbsp olive oil.
Add soy sauce, worcestershire sauce and tabasco (about 1tsp).
Toss in onions and mix until coated.
Rinse chicken, dry lightly and sprinkle with oregano, basil, thyme and garlic powder.
In frying pan, heat remaining olive oil.
Brown chicken.
Place chicken on top of onion mixture.
Cover with foil and place in oven.
Bake 20-30 minutes until chicken is done.
Remove foil and let chicken brown a bit more.
Serve chicken with onions and sauce over top.