Baked Chicken Thighs/Leg Quarters
Lori Mama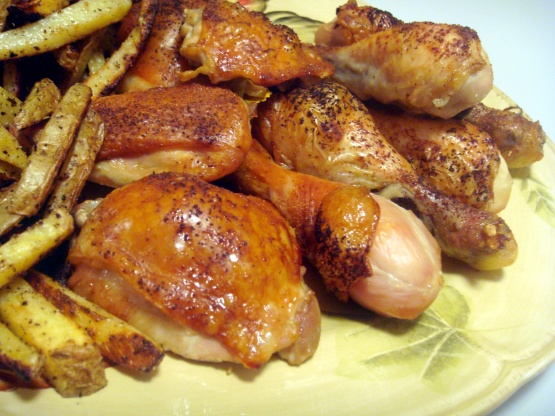 When I was first married we used to go to a Chinese restaurant that had the tastiest chicken -- spoiled by a greasy breading. After some trial and error I duplicated the flavor in this easy, economical dish. The long cooking that would dry out white meat gets the grease out of this dark meat and gives the skin a delicious crunch. It's quick to make, converts to any quantity, and is a great favorite with kids and adults both. It also holds well and the leftovers are good cold. Note: I've noticed in the last couple years that if you're not VERY CAREFUL about reading the fine print you'll end up with chicken pieces that have been "enhanced" by injecting it with some kind of "flavoring solution." Not only does this injected chicken make my DH ill from a reaction to the "flavoring solution," but it also seems to make it impossible for the chicken to pick up the flavorings you add. No matter what I do to it, "enhanced" chicken always tastes the same. So beware what you're buying. :)

This was so easy and tasty, thank you! I used my Nu-wave oven so I covered mine for the first part of the cooking time then let it crisp up, served with sweet pepper rice and steamed broccoli. What an easy meal. It really irks me when someone is rude about a recipe and sites how much more they can do...this site caters to all level of cooks and even us experienced cooks like new, easy recipes. At my house, we are very grateful and thankful for your time to share this with us, it was delicious!
Arrange chicken thighs/leg quarters skin side up in a shallow baking dish.
Sprinkle with garlic powder.
Drizzle about 1/2 teaspoon soy sauce on each piece.
Bake at 350 degrees Fahrenheit for 45 minutes to an hour, until the skin is crisp and brown and the meat is ready to fall off the bones.