teresas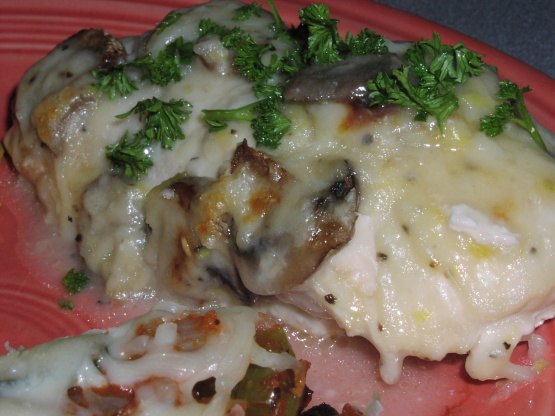 I got this recipe from my Mom and subsequently lost it. Just found it again yesterday so now it's getting posted for safekeeping. It's really good and only 5 points on the weight watcher's plan.

Can I just say...this is OFF THE CHARTS EXCELLENT in the low fat category? I only baked the chicken about 15 minutes prior to adding the sauce...I used fat free yogurt (store was out of low fat) and used about 3 cups of fresh mushrooms. I used a dry chardonnay. We LOVED this!! I wasn't expecting much...especially since I had to go the fat free vs low fat route. Made the sauce thin, but didn't take away from the taste. Just wonderful! PLENTY of sauce to serve over rice (which we did). Will definitely make this on again! Made for Holiday tag. Thank you for a true winner!
Preheat oven to 350°F.
Melt 2 tbsp of the margarine in a small saucepan over low heat.
Add the flour and cook, stirring constantly, until it's smooth (about 2 minutes).
Add the broth and wine.
Cook, stirring constantly, until the mixture thickens.
Remove from heat and stir in yogurt, lemon peel and pepper.
Set aside.
Place chicken and remaining margarine in a shallow baking dish.
Bake uncovered until the chicken is no longer pink. (about 20 minutes).
Sprinkle mushrooms over the chicken.
Spoon broth mixture on top.
Sprinkle with Parmesan.
Bake until golden. (about 30 minutes).
Garnish with parsley.
Serve and enjoy immediately.