Baked Chicken or Turkey Salad
Parsley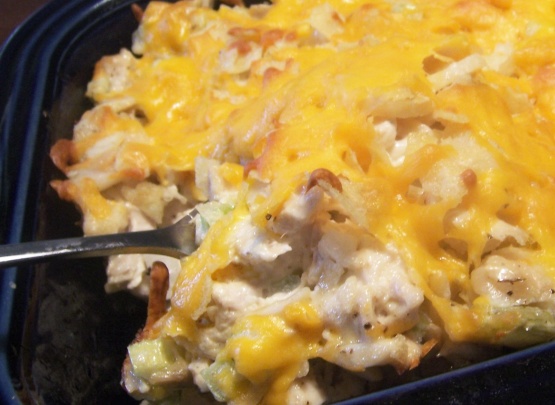 I lost my Grandma a year ago, and have been copying her recipes for my family (my cousin wanted all of grandma's recipes so this turned into a MAJOR project) and this has been one of my favorites growing up, and now that I have a copy of it I can make it.

If I had all the ingredients to follow the recipe I would have probably given it 5 stars. The adjustments that I made are as follows: -I only had smoked almonds, so I used half the mount not wanting the smoky flavor to over power. -I didn't have celery, so I used celery seed only. -I didn' have french fried onions, so I used onion salt and dried onions. -I added garlic salt. -I added milk. I baked it for 15 minutes, added the cheese and baked for another 15 min. It was very good. This would have been great with the french fried onions. We are it with triscuits and english muffins. I'm thinking it would be a great hot appetitizer to use in the up coming holidays. Thanks!
2

cups diced cooked chicken or 2 cups cooked turkey

1

(8 ounce) can water chestnuts, drained and sliced

1

teaspoon salt

2

tablespoons lemon juice
1⁄2 cup slivered almonds
1⁄4 teaspoon celery salt

2

stalks celery, chopped
1⁄8 teaspoon pepper

1

cup mayonnaise
3⁄4 cup grated or finely chopped cheddar cheese
1⁄2 cup crushed French-fried onions
Mix all ingredients together, except for cheese and onion.
Cheese and top and cover with onions.
Bake at 350 degrees for 30 minutes.