Baked Chicken on Pecan Stuffing
Prep 15 mins
Cook 45 mins

As we are now only two I find that a couple of chicken breasts is much better than a whole chicken and dealing with all the leftovers. Since I'm diabetic I use apple juice in place of apple jelly and it still tastes very good, also, I cook the veggie's in some chicken stock instead of butter..
Directions
Cook onion, celery, apple in butter in skillet 5 minutes. Add 1/2 teaspoon each salt, sage, pepper. Mix in bowl with bread. Drizzle with chicken broth, egg. Stir in 1/2 cup nuts, raisins. Spread in 13 x 9 x 2-inch pan. Top with chicken and sprinkle with remaining salt.
Bake in 400 degree F oven 30 minutes. Melt jelly, remaining sage, cinnamon in saucepan; brush on chicken. Top with remaining nuts. Bake 15 more minutes.
Most Helpful
I made this last night, and what a wonderful treat! I didn't have apple jelly, so I substituted applesauce. I cut this down for one person, and everything was perfect. I will definitely make this again, in fact am considering a repeat tonight! Thanks for sharing! Made for Rookie tag game.

This is a special recipe; my husband really enjoyed it; I followed the recipe except for the apple jelly;I didn't have any(apple juice either) but believe me it was Perfect the way it was.I baked it in my toaster oven and made it for 2.Thanks for posting Annacia! I made this for Photo Tag.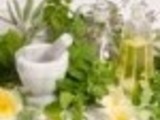 This is so easy to put together, and fit for a special occasion or romantic dinner (Valentine's, anniversary, birthday). I made this as posted, "splurging" with the butter and apple jelly. Great combination of flavors! Made for Holiday Tag. Thanks for posting a winner Annacia!