PanNan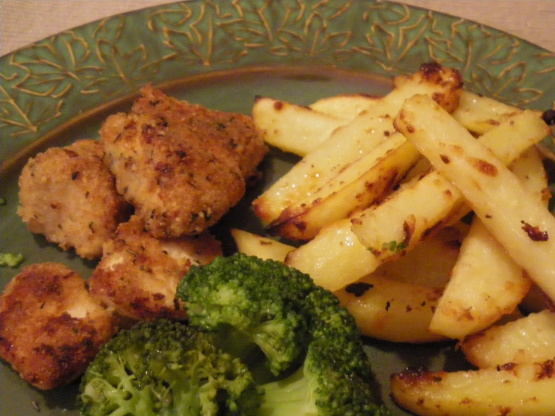 Easy chicken nuggets that my kids like. They dip theirs in ketchup. I like them dipped in marinara sauce or honey mustard.

Top Review by PanNan
This was an easy recipe using ingredients I keep on hand in the pantry. Perfect for a weeknight. Next time I will cook a few minutes less. At 20 minutes, the nuggets came out dry. Thanks for sharing your recipe.
Add the first 5 ingredients to a zip-top plastic bag; shake to combine.
Cut chicken into 1-inch pieces.
Dip the chicken pieces into the melted butter, then add a few at a time into the breadcrumb mixture; shake to coat.
Place on a lightly greased baking sheet.
Bake at 400° for 20 minutes or until tender.