Baked Chicken 'n Cheese Rollups
Nimz1466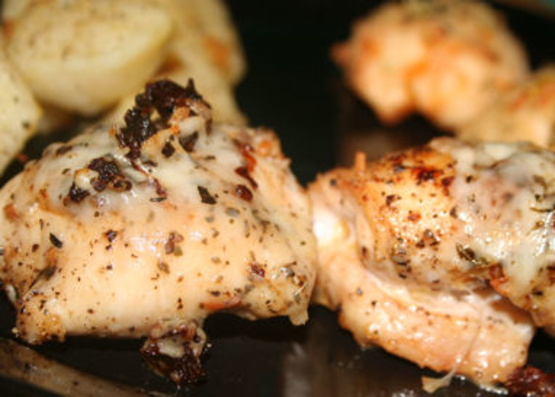 Woman's World Magazine 5/2/00. This wraps tender boneless chicken breasts around a melt-in-your-mouth filling of provolone cheese and sun-dried tomatoes for a main dish that looks as wonderful as it tastes.

This was a very nice combination for stuffed chicken breast. Mine were very small, but the cooking time was perfect. I really didn't care for the sauce because it was just very bland and I didn't think it would add to the recipe so left it off the chicken when served. Really liked the flavor of the provolone. Had extra cheese mixture so added it to the top of the chicken during the last 5 minutes of baking. Thanks for sharing. Made for PRMR.
Preheat oven to 375 degrees.
Sprinkle both sides of chicken with salt and pepper.
Combine cheese, basil and tomatoes. Dividing mixture evenly, spoon onto centers of chicken breasts.
Starting from short ends, roll up chicken; secure with toothpicks.
In large nonstick skillet melt butter over medium-high heat. Add chicken; cook, turning, until browned, about 2 minutes per side.
Transfer to ungreased jellyroll pan. Bake until chicken is cooked through, about 20 minutes.
Meanwhile, combine 1 T. broth with flour; set aside.
In same skillet over medium-high heat, combine wine with remaining broth. Bring to a boil; cook, scraping up browned bits from bottom of skillet, until slightly reduced, about 4 minutes. Stir in flour mixture. Reduce heat to medium; cook, stirring, until thickened, 4-5 minutes.
Serve sauce with chicken; garnish with basil. (You can slice rolls and layer on a platter with sauce spooned over.).