3 Reviews
This was a flop for me but I won't give it a bad rating since it might have been my fault. At step 7 when I stirred it, the rice still seemed undercooked so I put it back in the warm oven for a while. But then when I stirred it again it was a big gelatinous mess! Hubby liked the flavor though and he doesn't usually like rice dishes so I might try again.

I really loved this recipe. I really loved being able to make a yummy risotto without all the stirring fuss!! This dish is full of flavor, has a creamy consistency and it was so easy to prepare. What is not to love?! Personal notes: I omitted the mint since my family doesn't like it. I would recommend using 4 chicken boneless, skinless breasts and cube. Definitely use chicken stock vs. broth. The stock gives it a richer, in-depth flavor. Salt and pepper the chicken before browning - to add more flavor to the chicken itself. I'm not sure who Donna Hay is but I'm sure glad she created this recipe and thank lindsey for posting!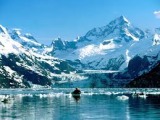 This was a very easy recipe to make. I loved the flavours of the lemon and mint. Very fresh! My husband liked it at first, then decided he didn't like it so much.... but I will be making it again. My 18month old loved it! Perhaps less peas next time...
Baked Chicken, Lemon and Pea Risotto