Baked Chicken, Lemon and Pea Risotto
Prep 10 mins
Cook 50 mins

From Donna Hay, this is baked all together in the oven,
Directions
preheat oven to 200C 400F.
heat a fry pan over high heat add oil and chicken and cook for 3 mins each side or until well browned, set aside.
add leeks and zest to the pan and cook for 5 mins until leeks are golden.
place leek mix, rice and stock in a baking dish, cover tightly with lid or foil and bake for 20 mins.
add chicken and peas to the risotto and cover tightly and bake for further 20 mins.
the risotto will be quite liquid at this stage.
stir the parmesan, lemon juice, mint and salt and pepper through the risotto.
stir for 2 mins to thicken then serve.
Reviews
Most Helpful
This was a flop for me but I won't give it a bad rating since it might have been my fault. At step 7 when I stirred it, the rice still seemed undercooked so I put it back in the warm oven for a while. But then when I stirred it again it was a big gelatinous mess! Hubby liked the flavor though and he doesn't usually like rice dishes so I might try again.

I really loved this recipe. I really loved being able to make a yummy risotto without all the stirring fuss!! This dish is full of flavor, has a creamy consistency and it was so easy to prepare. What is not to love?! Personal notes: I omitted the mint since my family doesn't like it. I would recommend using 4 chicken boneless, skinless breasts and cube. Definitely use chicken stock vs. broth. The stock gives it a richer, in-depth flavor. Salt and pepper the chicken before browning - to add more flavor to the chicken itself. I'm not sure who Donna Hay is but I'm sure glad she created this recipe and thank lindsey for posting!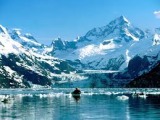 This was a very easy recipe to make. I loved the flavours of the lemon and mint. Very fresh! My husband liked it at first, then decided he didn't like it so much.... but I will be making it again. My 18month old loved it! Perhaps less peas next time...