Pixie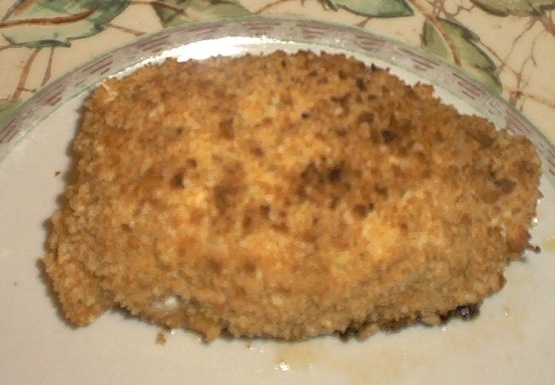 I have not tried this yet, but was pleased to find the recipe and wanted to share. I buy the frozen kievs frequently and look forward to making my own. Prep time includes the chilling of the butter mixture.

Everyone enjoyed this recipe. I'm not a big fan of pounding chicken to 1/4" thick, but when it is sealed in a Foodsaver bag, it is much easier and less messy.
In a small bowl, combine softened butter, chives, parsley and garlic powder.
On a sheet of plastic wrap or wax paper, shape into a 3-inch by 2-inch rectangle; wrap well and freeze about 30 minutes or until firm.
Preheat oven to 425F degrees.
Spray a 9-inch square pan with nonstick cooking spray and set aside.
Pound chicken breasts to a quarter-inch thickness between 2 sheets of plastic wrap or wax paper.
Retrieve butter mixture from freezer and cut crosswise into 6 pieces.
Place 1 piece on centre of each chicken breast; fold long sides over butter, then fold ends up and secure with a wooden toothpick.
In a shallow dish, combine cornflake crumbs, parsley and paprika; pour buttermilk into another shallow dish.
Dip chicken pieces into buttermilk, then coat evenly with cornflake mixture.
Place coated chicken, seam side down, in prepared pan.
Bake, uncovered, about 35 minutes or until juices run clear.
Remove toothpicks and serve immediately.