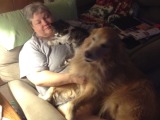 Our family really liked this. I did make a few changes however. I used Progresso Italian Style bread crumbs and added 1 tbsp. Parmesan cheese to the crumbs. I also left out the tomatos and used Ragu Robusto® Spaghetti sauce with saute onions and garlic in place of the marinara sauce. I also used a whole jar of the Ragu so we had more sauce for a pasta side.
Preheat oven to 350F.
Heat olive oil in large frying pan.
Dip chicken in salad dressing, then in bread crumbs.
Brown in oil.
Transfer to shallow baking dish.
Spoon marinara sauce over chicken.
Top with sliced mozzarella, then chopped tomato.
Sprinkle with herbs and a generous shake of Parmesan cheese.
Bake for 45 minutes.
If tomatoes begin to burn, cover loosely with foil.