Baked Chicken Breasts on the Grill
Annacia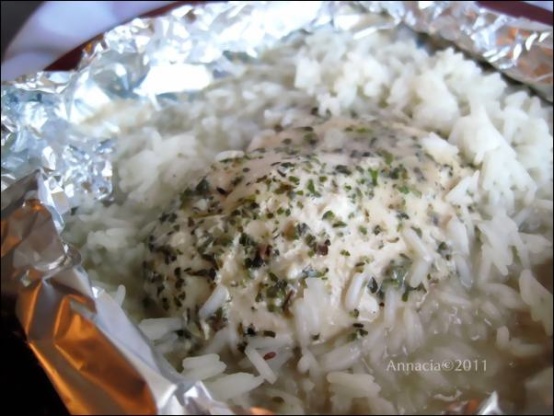 Barbecue Recipes, formerly Patio Recipes revised January, 1985 Can also use Cream of Celery soup

This a really tasty and you can't get much easier. DH adored anything with mushroom soup so this was a given. The single drawback to this is that the chicken steams and even when fully cooked it still has a raw look. Using this cooking method there is no way to avoid that but it is worth considering if your bbq'ing for company. That said, the chicken was moist, tender and well cooked at 45 mins for me. Another excellent point is that clean up tossing away the foil with no pan to scrub, gotta love that. I cooked rice separately and added it into the thin sauce in the packet around the chicken as soon as it was opened. The rice, still hot and fresh soaked up a goos bit of it and, oh my gosh, it was good! Don't be shy about adding seasonings as the chicken will benefit from it. This would also work perfectly in the oven when it's not bbq weather.
salt and pepper

1

(10 2/3 ounce) can cream of mushroom soup

1

garlic clove, minced

1

tablespoon parsley, minced
1⁄4 teaspoon thyme

1

tablespoon onion, minced
Season chicken breasts with salt and pepper.
Combine cream of mushroom soup, garlic, parsley, thyme, and onion.
Spread undiluted soup mixture generously on chicken breasts.
Wrap in aluminum foil (individually, if you like).
Seal tightly.
Broil over hot coals for 45 minutes to 1 hour; turn once.