Baked Chicken Breasts (Crock Pot)
lets.eat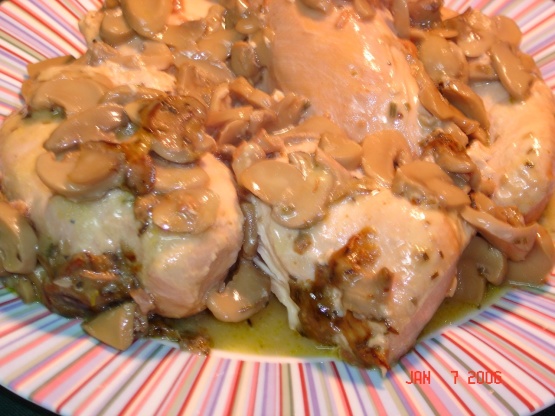 The cream of chicken soup and sherry gives this a buttery taste

The chicken was exceptionally moist and tender. I think there was a tad too much rosemary for me and I love rosemary. Or perhaps I didn't like it with the Worcestershire sauce..I don't know, but the sauce was a tad too strong for me. I used fresh mushrooms and added a bit of chopped onion I had to use up. I sauteed both in the butter before adding the other sauce ingredients. I served it over buttered egg noodles and it was a comforting meal.
Rinse chicken and pat dry with paper towels.
Place in crock pot. In a saucepan combine remaining ingredients and mix until smooth and hot. Pour over chicken breasts. Cover and cook on low 8-10 hours.