lazyme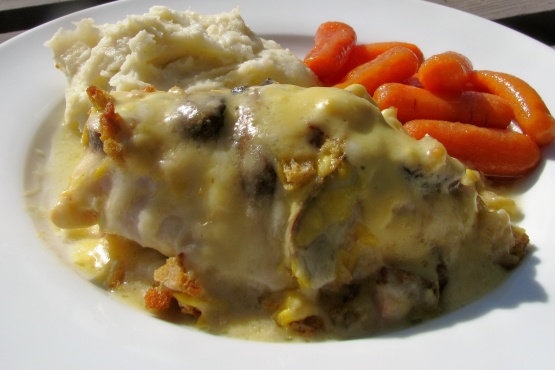 Mmmmmm--this is so good and so creamy. You will enjoy this dish.
OMG Darlene! This was fabulous!! I followed the recipe exactly and served it over extra wide egg noodles with a side of green beans. It was like eating Sunday roasted chicken with stuffing but in a fraction of the time. This is a new addition to my list of comfort foods. Heck, I even ate the left-overs, something I RARELY do! Thanks sooo much for a great recipe!
Butter a 13x9-inch baking dish and arrange breasts in dish.
Top with cheese slices.
Mix soup and apple juice together till well combined.
Spoon evenly over chicken breasts.
Sprinkle stuffing mix over soup.
Drizzle butter over crumbs.
Bake at 350° for 50 minutes to an hour, or till chicken is tender.