Derf2440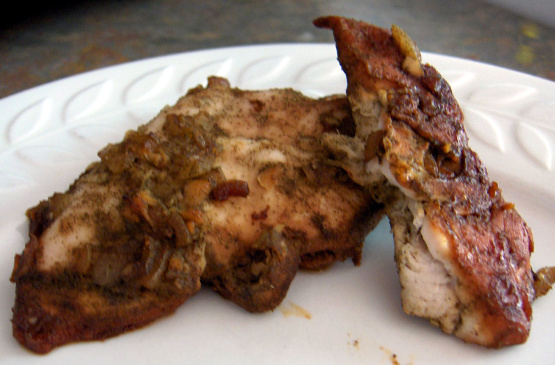 This is mt DBF's absolute favorite way that I prepare chicken. It has kind of a salty teriyaki taste to it, but it isn't overpowering. It is really easy to throw together but, unfortunately for my BF, it bakes for a long time so it can only be made on days when I am not working. Don't be scared off by the baking time though. As long as the foil is on tightly these won't dry out. But, if you are still skittish, they can probably be removed from the oven as soon as the juices run clear but the flavor from the soy sauce mixture won't be as strong. I like my flavors very strong, so I use more seasoning than was originally called for. You can play around with the measurements to suit your taste. From the eDiets website.
Preheat oven to 425 degrees.
Place chicken breasts in a 13x9" baking pan.
In a small bowl, combine remaining ingredients.
Pour over chicken, lifting chicken to let liquid run underneath.
Cover dish tightly with foil.
Bake one hour.