Baked Chicken and Rice With Black Beans
Deb G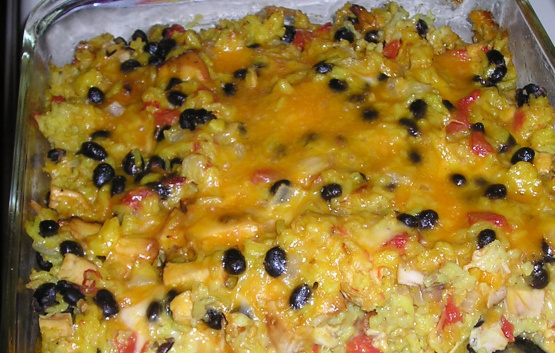 I loved my grandma's chicken and rice, but this takes it to another level. A comforting casserole that is mildly seasoned, but could easily be spiced up as you prefer. From the February 2009 Southern Living magazine, attributed to Meredith Baldwin of Lawrenceville, Illinois.
Prepare rice according to package directions.
Meanwhile, saute onions, bell pepper, and carrot in hot oil in a large skillet over medium heat 10 minutes or until tender.
Preheat oven to 350F and lightly grease a 3-qt. or 13- x 9-inch baking dish.
Combine hot cooked rice, onion mixture, beans, diced tomatoes and chiles, and 1 1/2 cups cheese in a large bowl (I use the skillet instead).
Spoon into the prepared baking dish and sprinkle with remaining 1/2 cup cheese.
Cover and bake for 20 to 30 minutes, uncover and bake 5 to10 minutes or until cheese is melted.