ImPat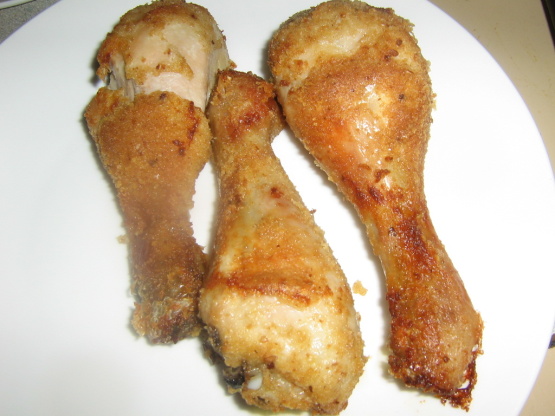 Haven't tried this in a while. You may not want to use butter because of the calories but it does add to the flavor!

Top Review by ImPat
WOW cannot understand why this has not been reviewed before now. I used drumsticks (legs) - 10 in total as I wanted some cold for a picnic the next day, 2 of us ate 4 of them with dinner with Debbwl's recipe #376107 on the side. I used the breadcrumbs to which I added some basil, lemon thyme and oregano (which had been fresh but which I dried in the microwave) and added to the breadcrumbs. For 10 large drumsticks I used about 3 to 4 tablespoons of butter melted in a shallow bowl in the microwave. Didn't use salt but rarely add extra salt. Baked at 200C fan forced oven for 1 hour. Now besides enjoying my 2 drumsticks thoroughly lovely and juicy but the DM after eating her side declared herself full but I conjoled her that I needed her opinion on the chicken could she please have at least just a mouthful well the mouthful turned into 2 drumsticks devoured - a winner. Thank you marisk, made for Bargain Basement.
potato chips (crushed) or breadcrumbs
butter, melted
pepper, to taste
salt (if using breadcrumbs)
Wash and pat dry chicken pieces.
Coat with butter, then with chips/crumbs.
Season to taste.
Bake at 425 degrees for 45 minutes.