HeidiSue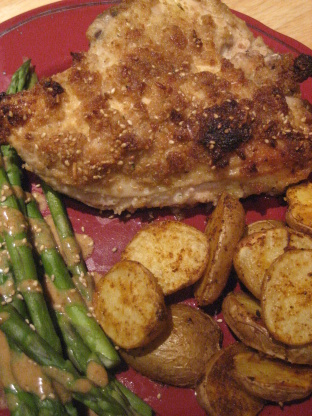 We've been making this chicken for years and everyone enjoys it. Recipe source: Bon Appetit (May 1981)

Made this recipe for dinner this evening & it was just great, & I'll definitely make it again, SOON! I used 4 chicken breasts. I started with the breasts bottom-side up & added more of the breadcrumbs just before sprinkling with paprika. Then, after 30 minutes, I turned the breasts over, basted with melted butter, sprinkled more breadcrumbs over each one & then added the sesame seeds. I was extremely pleased with the outcome! Many thanks for this great recipe.
Preheat oven to 375-degrees F.
Grease a baking dish big enough to hold chicken in one layer.
In a pie dish combine the 1/4 cup melted butter with lemon juice.
In a pie dish combine cheese and breadcrumbs.
Dip chicken pieces in butter/lemon mixture than roll them in the breadcrumb mixture and arrange in prepared dish.
Drizzle remaining butter over chicken and then sprinkle with paprika and sesame seeds.
Bake for one hour, basting frequently and turning chicken halfway through cooking time.