Baked Cherry Tomatoes with Parmesan Topping
momaphet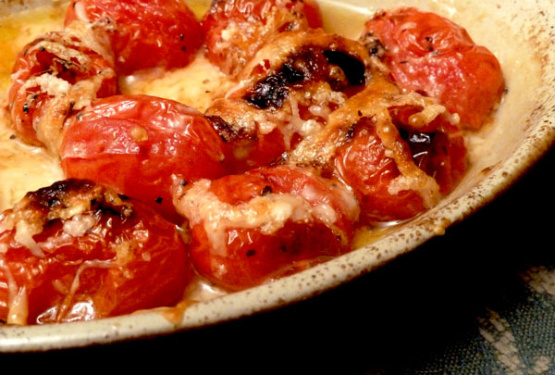 Another winner from Bon Appetit. A wonderful side dish or appetizer course.

This is such a beautiful and delicious dish! There were no cherry tomatoes to be found in the store so I bought grape tomatoes for this recipe. They were like a little burst of flavor in every bite! This is a delightful way to serve tomatoes. I loved the mealted parmesan on top. Thank you so much for posting! I know I will be making this one again!
Pour oil into 13x9x2-inch broilerproof ceramic baking dish.
Add tomatoes, turn to coat with oil.
Sprinkle with salt and pepper.
Top with parsley and cheese.
Preheat oven to 400.
Bake tomatoes just until plump and shiny but not split, about 10 minutes.
Preheat broiler.
Broil until tomatoes begin to split and cheese begins to color, about 2 minutes.
Serve hot or warm.