Baked Cheesy Chicken Nuggets (No Bread Coating)
Mme M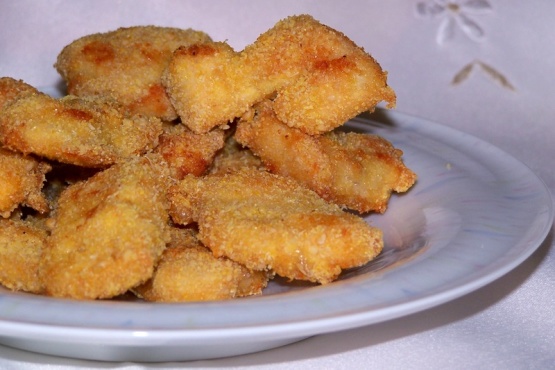 This recipe is for the ever-popular chicken nugget. It uses polenta and finely grated parmesan cheese as the crumb mixture. Should serve 6 children or 4 adults. These are great nuggets and they are gluten free! Feel free to add some spices or seasonings of your choice.

Top Review by PKG178
I thought this was a very great base recipe. I used marinatedchicken breasts and cut them across the grain into 2 inch strips.

I seasoned the cornmeal and parmesan with salt, cracked black pepper, onion powder and garlic powder and mixed with a fork. I then tossed the chicken strips individually into the mixture and lay them out on a sheet pan lined with parchment paper.

Cooked 14 minutes total, flipped them halfway through. I really enjoyed this. I liked that I can essentially make chicken strips at home and control the ingredients. For the kid in me, I served with 2 tb ketchup mixed with 1 tsp apricot jam and 1/4 tsp vinegar. Thanks for sharing!
Preheat oven to 200°C.
Flatten the chicken slightly until it is the desired thickness of your nuggets--you can use a meat mallet or your rolling pin.
Cut the chicken into nugget sized chunks.
Combine the polenta and the parmesan in a bowl.
Dip the chicken pieces into the polenta mixture and ensure they are thoroughly coated.
Place the nuggets onto a paper lined baking tray and bake for 10 minutes, or until cooked and golden.