Baked Cheese Sticks (Best of Bridge)
Brenda.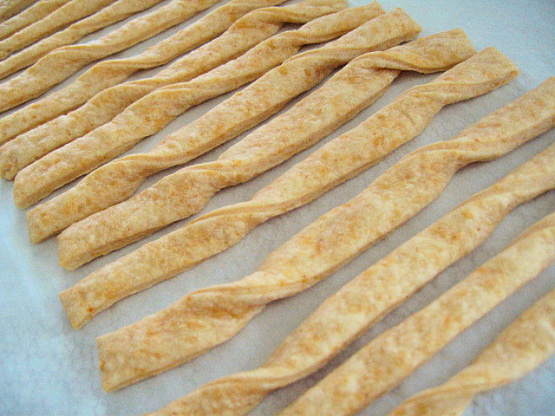 From the popular Best of Bridge cookbook series. Easy and tasty, with ingredients everyone is likely to have on hand.

Forgive me if I made this recipe wrong. I couldn't tell if the butter was to be cold and cut into the flour like pie crust, or softened and mixed in with a hand mixer. I opted for the pie crust method and rolled the cheese sticks out like a pie crust before cutting them and baking. I baked mine about 14 minutes and they could have used a few minutes more, maybe 16-17. I thought they could have used a tiny bit of salt as well. Again I apologize if I didn't prepare these correctly, but I really couldn't tell what I was to do by the directions given. *Made for Spring PAC 2009*
Combine all ingredients. Mixture will be soft.
Cut into strips.
Bake at 300 degrees F until lightly browned (10 minutes?).