Baked Cheese Polenta With Swiss Chard
rpgaymer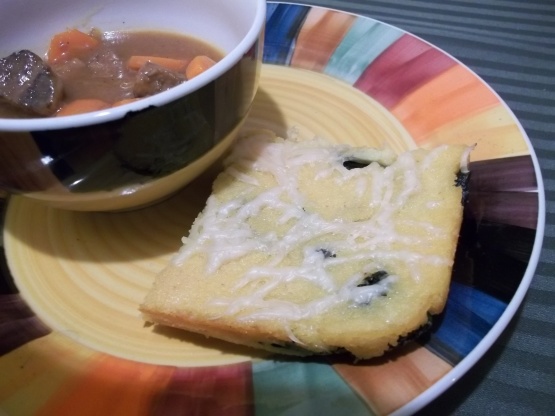 We love this casserole, easy to put together and oh so good and good for you. I found the recipe at fooddownunder.com ,and make a couple changes to our liking. Note: This recipe can be prepared up to 24 hours in advance.

This was my first time making polenta and it turned out really well for me! The garlic is no joke and will make your house smell fabulous! I used half rainbow chard and half spinach, with excellent results (I left out most of the stems, uncertain of the texture I might end up with). Next time I'm not sure I'll do the sour cream, as I'm not sure what it added to the dish, with the exception of extra calories. I served this with Kittencal's Pizza Sauce and it was fantastic! Like a veggie lasagna, but lighter, and without the noodles. Our guest even licked her plate (looking sheepish, but she still did it). I take that as a compliment, and highly recommend serving this with some kind of sauce... I also think a spaghetti-like meat sauce would go really well with this dish. Thanks for posting!
Heat the oil in a large skillet over medium heat; Add the garlic and cook 30 seconds, then stir in Swiss chard stems; pour in a couple tablespoons water and cover pan; cook the stems 2 minutes; Remove the cover and mix in the Swiss chard leaves; Cover the pan again and cook until the leaves wilt, about 3 minutes; Remove pan from heat and let cool, uncovered.
Preheat the oven to 400°F; spray a 2 1/2-quart shallow baking dish with cooking spray and set aside.
Combine the chicken broth, water and salt in a medium size saucepan and bring to a boil; reduce the heat to medium-low and SLOWLY drizzle in the cornmeal, WHISKING all the while with a wire whisk.
Continue to cook and whisk the polenta until it is the consistency mashed potatoes, about 5 minutes; whisk in 2 tablespoons of Parmesan cheese, the 1 tablespoon butter, and the Mozzarella cheese.
Spread HALF of the polenta into the baking dish; Spoon on Swiss chard and distribute it evenly on top of polenta; Drop on small spoonfuls of the sour cream over Swiss chard; spread it out with back of spoon.
Spoon on the remaining polenta and spread it out; Sprinkle on the remaining tablespoon of Parmesan cheese (the casserole may be prepared to this point and refrigerated up to 24 hours in advance, bring to room temperature before baking).
Bake the polenta for 20 to 25 minutes, or until golden on top and sizzling, DO NOT overcook it because you want to retain its creamy interior.