Baked Celery With Cheese and Ham
Parsley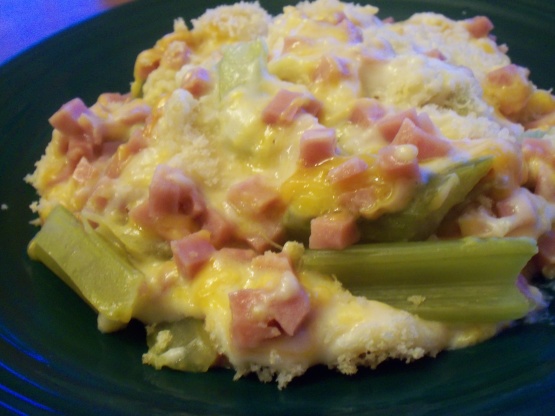 Adapted from the Woman's Day Encyclopedia of Cookery.

This recipe deserves more than 5 stars! I've made the recipe and DH & I loved it, as is, (aside from adding black pepper to taste) many times and I just realized that I didn't review it. Sorry about that. :( Because of unexpected guests, I discovered this receipe isn't just very good but very flexible in a pinch. (I love those.) I was all ready to put the casserole together when my company arrived. While I chopped an additional 1/2C Ham and 1 Pimento (jared), I sauted a 1/2 of a Medium diced Onion. Added a small can of sliced mushrooms (drained - 30z.) to the mix, layered the casserole following the instructions and baked it. Served with a Salad and Crusty French Bread. It was "loved" by all, but you deserve the credit. Who knew that your Baked Celery With Cheese and Ham would save my day. Parsley is right. Your recipe is "Great" and would work with other cheeses. Thank you for sharing and saving my day.
Preheat oven to 350°F.
Cover celery with salted water, bring to a boil, and simmer until tender, about 15 minutes.
Drain well.
Layer celery, ham and cheese in a well-greased 2-quart casserole.
Melt the butter in a skillet over low heat.
Stir in flour.
Gradually stir in broth and cream.
Cook, stirring constantly, until smooth and thick.
Add salt and pour mixture over mixture in casserole.
Top with bread crumbs.
Bake until top is browned and mixture is bubbly, 25-30 minutes.