Baked Cauliflower With Italian Seasoning
Pam-I-Am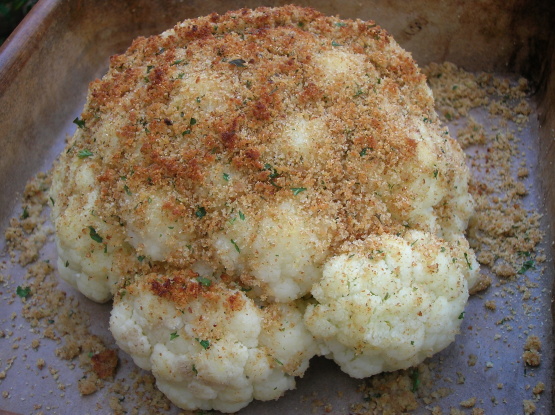 I got this from my aunt. My family is not usually a big fan of cauliflower but everyone goes back for seconds with this recipe.

I thought this was pretty good...a different way to serve caulifower than I've seen before. I had a little difficulty getting the breadcrumbs to stick so I ended up drizzling a little additional butter over the top to make it stick better. It was a little bland so I sprinkled some garlic powder and salt on it. I did use seasoned bread crumbs, but they may have been the problem. A different brand might do better next time. Thanks for posting. Pam
Cut the bottom of the stem off of the head of cauliflower. Do not break apart the florets.
Cut an X in the bottom stem.
Steam the cauliflower for 10 minutes, turn over and steam for another 5 to 10 minutes, until it is fork tender.
Place the cauliflower in a baking dish.
Melt the margarine and mix in the bread crumbs, garlic powder, basil and oregano.
Spoon the breadcrumb mixture over the top and sides of the cauliflower.
Bake in a 350 degree oven for 10 - 12 minutes until the breadcrumbs are golden.