Baked Cauliflower in Cheese Sauce
Shirl M.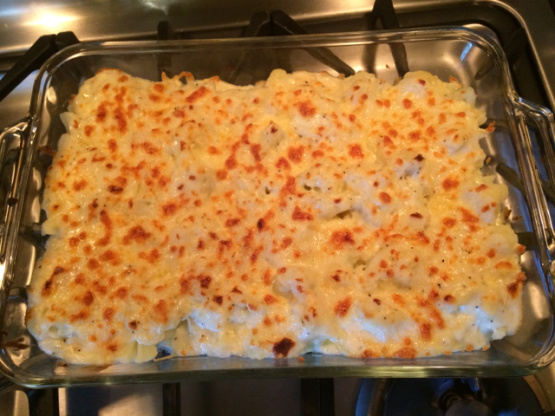 Baked cauliflower in a creamy cheese sauce that doesn't use cream-of-X soup. Note: I have made this with skim milk and lowfat cheese and it works, but you have to cook the sauce longer to get it to thicken.

Great recipe. I added one ingredient - bread crumbs sprinkled over cheese sauce and before the final 1 cup of cheese.
Cut cauliflower into bite size pieces and steam until just tender.
While it is steaming, melt the butter and add the red pepper flakes and garlic powder (if using).
Add the flour and mix until smooth and thickened.
Mix in the milk a bit at a time stirring each time until smooth.
Cook, stirring constantly, over a medium heat until thick and creamy (this takes awhile).
Add 1 cup cheese cheese and stir until melted.
Remove sauce from heat and salt and pepper the sauce to taste.
Spread the cauliflower in a 9 x 13 pan (or casserole dish).
Pour the cheese sauce evenly over the cauliflower and then sprinkle with 1 cup cheese (if desired).
Bake at 350 F until cheese is melted.