Parsley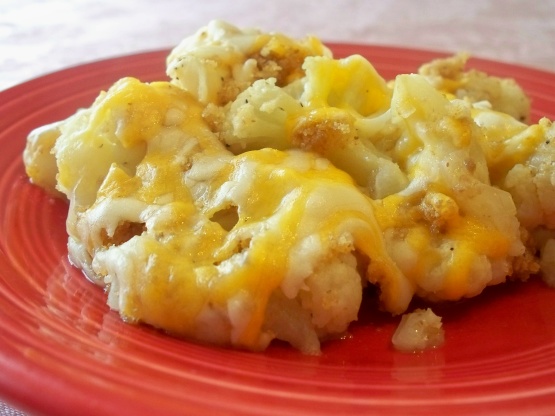 We love to eat cauliflower made this way.

Top Review by Carm50
I recently tried a very similar recipe given to me by a friend. The only difference was the addition of 1/8 tsp nutmeg to be added in Step 2. I liked the addition of the nutmeg which brightened up the dish and added just a little something different and unexpected, but this recipe would be good without it. I also steamed some fresh cauliflower instead of using frozen and reduced the amount of butter and oil by about half for health reasons. Thanks for posting this recipe. I will definitely keep it and use it many times in the future.
In a large skillet, saute onion and garlic in 2 tablespoons butter and oil until onion is tender.
Add the cauliflower, salt, pepper, and saute for 2 minutes.
Transfer to a greased 1-qt. baking dish.
Melt remaining butter and toss with bread crumbs.
Sprinkle over cauliflower mixture.
Cover and bake at 350° for 15 minutes.
Uncover and bake for 10 minutes or until heated through.
Sprinkle with cheese and bake 3-5 minutes longer or until cheese is melted.