GaylaJ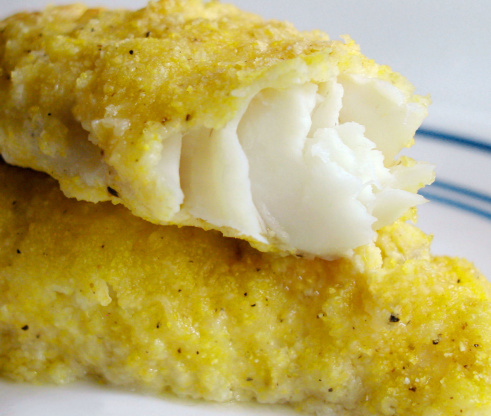 My 7 yr old came home from a friend's house raving about dinner and saying I *had* to call and get the recipe. I was surprised when she said it was fish, as she is not the biggest fan. When I asked if she knew what kind of fish it was, she nodded enthusiastically and said it was 'caught fish.' I made a phone call to check it out...here for you is my friend's recipe for super easy 'cod fish.' ;o) BTW, she said bags of frozen cod fillets were readily available at the local Sam's warehouse but had been hard to find at the groceries.

Wonderfully flavored fish! Although next time, as long as the butter is there anyway, I would panfry the fish. I'd prefer that texture and crunch, I think. Very easy and quick to prepare. What more could you ask for?
Melt butter in baking pan at 350.
Mix flour, cornmeal, onion salt,& pepper.
Dredge fillets in flour mixture.
Place in pan, turning once to coat both sides with butter.
Sprinkle with Parmesan cheese.
Bake 10 minute.