2Bleu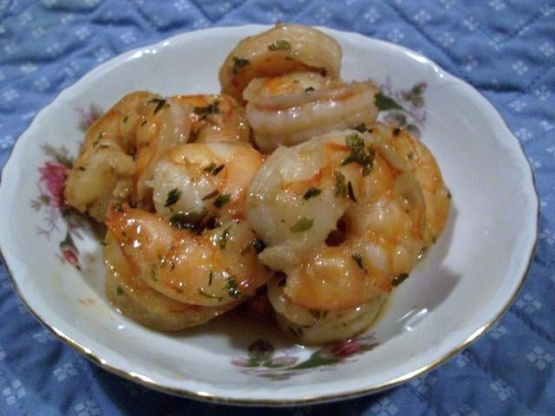 This is an easy and quick recipe for a midweek meal. The flavor is spicy but yummy. I use Emeril's Creole seasonings for the cajun spices. I love to serve this over rice and with a green vegetable or salad.

Great shrimp and exactly what I was yearning for. I couldn't find my Cajun seasoning so I substituded with Pistol River Mushroom Cajun seasoning. My shrimp turned out with a lot of kick that was find with me. I baked for 10 minutes and my shrimp was a little tuff. Watch your cooking times. I will be using the sauce to marinade some chicken wings tomorrow. Believe they will turn out great.
In a bowl combine olive oil, butter, soy sauce, honey, cajun seasonings, lemon juice, thyme and parsley. Mix together well. Set sauce aside.
Lay out shrimp, in single layer, in greased baking dish. Pour sauce over top of shrimp and turn shrimp to coat well. (you can do this up to 2 hours in advance).
Bake in, preheated 400 degree oven, for 10-15minutes.
Garnish with lemon wedges.