Baked Butternut Squash and Parmesan Cheese Gratin
Leslie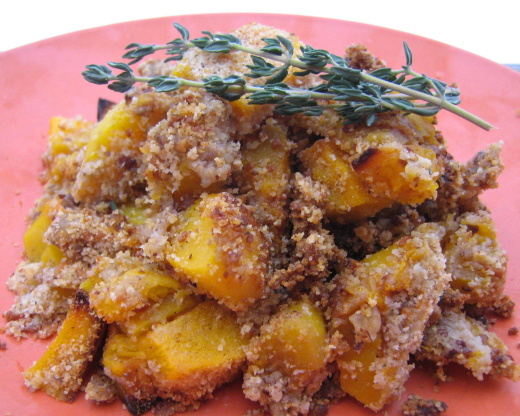 A delicious gratin dish that can be eaten as a main course for vegetarians or works very well as a tasty vegetable accompaniment. This simple gratin can be prepared beforehand and kept covered in the fridge - just remember to take it out for 30 minutes before baking it. The crumbly cheese topping contains pecans, however walnuts can be substituted if pecans aren't available.

First let me say the end product was delicious, but it did take me quite a bit longer (~25 min) of baking to get the squash soft. The topping was brown and the end of the first 30 minutes, so I had to turn down the heat and cover the dish with foil for the 2nd 30 min. Ended up having this for dinner ther following day, and it reheated in the oven nicely. People may want to start this dish early if making with other items for a meal, to make sure it is done when you want it to be! Flavors were great, nice to have a butternut squash dish that wasn't overly sweet! A keeper for me.
Cut the peeled and seeded butternut squash into 1" cubes or chunks and place them in to a well buttered gratin dish. Season the butternut squash generously with black pepper and a little salt.
Mix the grated parmesan cheese with the fresh bread crumbs, nuts and chopped thyme and then sprinkle over the top of the butternut squash.
Dot the butter all over the cheese and nut topping.
Bake it in a pre-heated oven, 200C/400F/Gas 6, for about 35 to 45 minutes, until the butternut squash is soft and the topping is golden brown.
Serves 2 as a main course and 4 as a vegetable accompaniment.
Serve piping hot with crusty bread and salad, if serving as a main course.