Baked Buttermilk Mustard Chicken Thighs
ImPat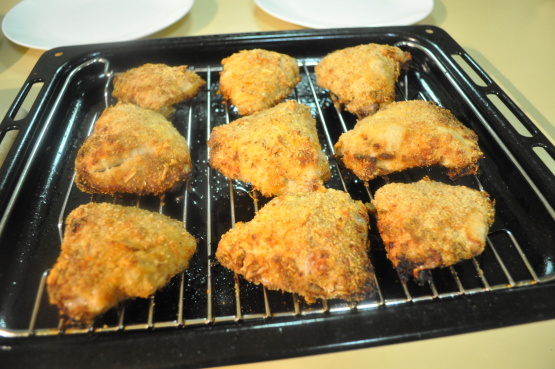 These are really tasty, and easy to make, too. :) Prep time is the chilling in the fridge.

Really good, everyone enjoyed this dish. Very tender with lots of flavor. Buttermilk (lowfat) keeps the chicken moist. Used Grey Poupon and didn't find the mustard flavor at all overwhelming. I doubled the recipe, but needed to triple the crumb recipe. Used all of the mustard mixture for dipping the chicken, so we went sauceless and it was delicious. Next time I will line the pan with foil for less mess. Followed baking directions but ended up broiling the top for a few minutes cause it was a bit too wet. Will definitely make again. Thanks for sharing the recipe!
Preheat oven to 425 degrees F.
Combine bread crumbs, Parmesan cheese, and dried minced onion; set aside.
Combine the buttermilk, Dijon, honey, salt, pepper, garlic powder, rosemary, and sage.
Divide mixture into two portions and set one portion aside.
Coat the thighs in one portion of the buttermilk mixture, then dredge in the bread crumbs; discard any used buttermilk or breadcrumbs that are left over.
Place thighs on a plate so that they are not overlapping and let chill in refrigerator for 20 minutes.
Coat a baking sheet with cooking spray and place in oven for 5 minutes to preheat the sheet; place thighs on the sheet and bake for 24 minutes, turning the pieces over after 12 minutes.
To serve, microwave the reserved, unused buttermilk mixture on high for about 20-30 seconds or until warmed through, and drizzle as a sauce over the chicken.