Ardenia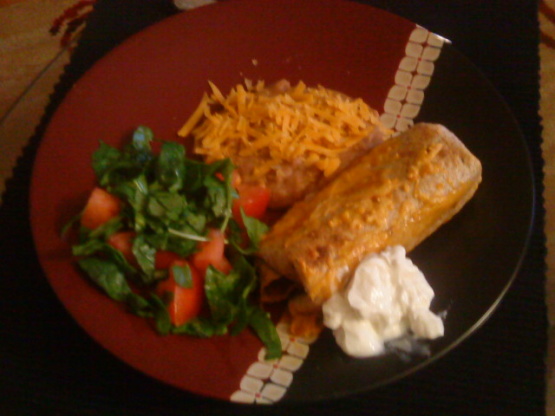 These burritos are so good and easy to make. I adapted this recipe from one posted in Quick Cooking magazine.

Fantastic! I really wanted to make something other than tacos and this was just perfect. I used extra lean ground beef, brown rice and 12 grain tortillas to make them a little healthier. I mixed jalapeno cheese with cheddar cheese for some extra kick and it was great! Served this with shredded spinach and tomatoes as well as refried beans on the side. When the burritos were almost done in the oven I broiled them for a couple of minutes just to crisp the tops a little bit. I had to take a picture because it looked like something I would get from the Mexican restaurant down the street... I will be sure to post it ASAP! Thanks for the recipe :)
Brown ground beef and onion; add taco seasoning mix and water; cook as directed on package.
In a bowl, combine the beans, salsa, rice and 1 cup cheese.
Spoon about 1/3 cup off-center on each tortilla.
Fold the sides and ends over filling and roll-up.
Arrange burritos in a greased 13X9 baking dish.
Sprinkle with the remaining cheese.
Cover and bake at 375 degrees for 20-25 minutes or until heated through.